Servus liebe Hörer,
auch im Oktober haben wir wieder eine spannende Magazinsendung für euch produziert. Wir wünschen gute Unterhaltung!
[caption id="attachment_5078" align="aligncenter" width="150" caption="Halloween Kürbis Quelle: euart / flickr"]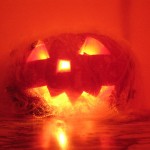 [/caption]
Shownotes
Aptosid
Opensource Kochen
Spielevorstellung
KaMUX
systemd
RadioTux News
Ansgars ToolTipp
Musik
Musikalisch geht es in dieser Sendung gemütlich, wenn nicht gar relaxed zu. Der französische Reggae und Roots Sänger Jahmac (engl, franz.) bringt uns das "wir!"-Gefühl mit seinem Song "Reggae & Unity" näher. Anschließend geht es mit einem ohrwurmverdächtigen Refrain weiter. The Postmen (franz.) bescheren uns mit ihrem Titel "Heed the call" einen geschmeidigen Ausklang.
Aufzeichnung
Versionen als *.ogg und ohne Musik findet ihr in unsere Feedübersicht oder in unserem Archiv.
2010-10-29.RadioTux.Oktober2010.mp3 2010-10-29.RadioTux.Oktober2010.ogg